Natural Language Processing Team in Computer Science Laboratory
Faculty of Sciences, Mohamed First University
Oujda, Morocco.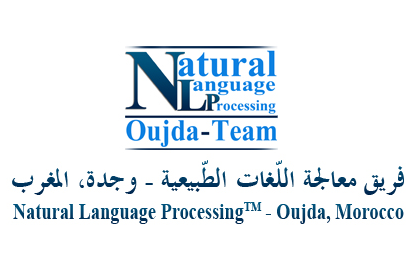 Recent decades have seen an exponential development of the digital content. The exploitation of this content in an optimal time has required solving several problems caused by its large size and its rapid evolution.
View the growing interest of the Natural Language Processing (NLP) in the field of information technology, and given the scarcity of tools and applications relating to the Arabic natural language processing (ANLP) and the limits of some of them, we established in 2005 the ANLP team in the IT Research Laboratory of the Faculty of science at the University Mohammed Premier Morocco.
The objective of this team is the contribution to the development of digital language resources, tools and applications related to the Arabic language.
The multidisciplinary available within our team (the specialties of our researchers cover the computing science, the mathematics and the linguistics) and group work allowed our team to develop several applications. High performances displayed by these applications are partly due to the multidisciplinary nature of our team and the adoption of the morphological and syntactic characteristics of the Arabic language during the development of these applications.
Our team provides to researchers working in the field of ANLP the source codes of the majority of developed applications. These researchers can integrate these applications into other programs or exploit their databases.
Morphology
Automatic Diacritization of Arabic
Syntax parsing
Interactive dictionaries
Corpora
Optical character recognition
Automatic Topic Identification
Learning Disabilities & Dyslexia