Natural Language Processing Team in Computer Science Laboratory
Faculty of Sciences, Mohamed First University
Oujda, Morocco.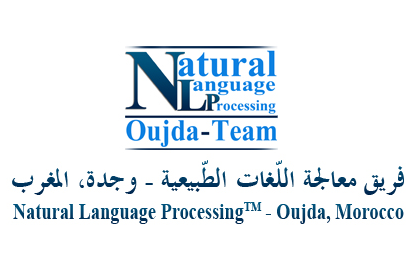 The last decades have witnessed an accelerating spread of digital content, which has resulted in great challenges related to its processing and exploitation. In view of the growing importance of automatic processing of natural languages in the field of information technology, and given the scarcity of tools and applications for processing Arabic digital content and the limited efficiency of some of them, in 2006 a team of natural language processing was created within the Computer Science Research Laboratory of the Faculty of Science, Mohammed I University, Kingdom of Morocco.
The main objective of the team is to contribute to the development of digital linguistic resources, tools and applications for Arabic digital content, by adopting the morphological and synthetic features of the Arabic language and applying artificial intelligence algorithms and statistical methods.
The team members' affiliation with different disciplines (computer sciences, mathematics and Arabic language sciences) enabled them to create a several corpora and develop highly efficient tools. These corpora and the source codes of the developed tools have been made available to researchers working in the field of Arabic natural language processing. They can thus benefit from them by integrating them into other applications or by exploiting their databases.
Research areas:
Morphological analysis
Automatic Diacritization
Syntactic analysis
Interactive dictionaries
Corpora
Machine translation
Readability of texts
Sentiment Analysis
Topic Identification
Platforms for teaching Arabic to students in a difficult situation